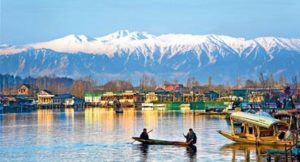 Things Required
List of about 50 national and international holiday destinations for eg. Ladakh, Sikkim, Darjeeling, Mahabaleshwar, Manali, Andaman & Nicobar Islands, Kashmir, Rishikesh, Ooty, Shimla, London, Paris, Barecelona, Sydney, New York, Cape Town, Dubai, etc.
List all the above things on a board similar to tambola board.
Make  slips of those names  as tambola tokens. Keep them in bowl.
Blank tickets are to be made just as tambola tickets ie. it will have 3 rows and 9 columns.
How To Play
Give one blank ticket with  list of holiday destinations and a pen to every player.
Every player will  write the names of 15 holiday destination of his/her choice from the list on the ticket.
Caller needs to call the names one by one as per his/her choice.
If the name called by Caller exists on the player ticket, player has to strike it off,
Game ends when early five, all the rows, corner & full houses are successfully claimed.
When any member gets the house he/she has to say 'It's time for vacation' and can receive the prize.