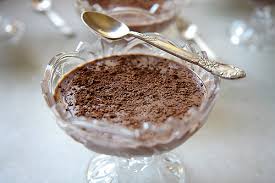 Ingredients
½ ltr. Milk
2 tbsp. Custard Powder ( Chocolate flavor)
1/2 cup sugar or as per taste
 2 tbsp chopped almonds
1 tbsp raisins
1 tbsp chopped  cashew nuts
1 small Milk Chocolate
1 small Chocolate Cake
How To Make Chocolate Custard with Nuts
 Pour milk in a thick bottom pan. Reduce the flame and stirr for about 6 to 8 minute so as to reduce its volume.
Add  sugar and stir again.
Take 1/4 cup of cold milk and add 2 heaped tbsp. of Chocolate  flavoured custard powder and mix thoroughly so that the powder gets diluted properly in the  milk.
Now pour the custard powder in the milk slowly  with one hand and stir the milk with other hand  so as to  avoid formation of lumps.
Stir continuously until the custard becomes thick.
Remove from the flame and allow it to cool.
Transfer this mixture into a large bowl. Keep this bowl  in the fridge for about 2 hrs.
Add chopped almonds, cashew nuts and  raisins
Cut the milk chocolate and chocolate cake into small pieces and keep it in a bowl.
Serve chilled and garnish the chocolate custard with milk chocolate and chocolate cake.