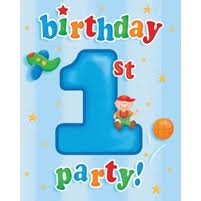 Kid's first birthday is a big milestone for parents and the kid alike. It is all the more exciting when it's your first baby turning one. It is very natural for parents to think about celebrating the first birthday.
Planning first birthday party of your baby is a lot of fun and not to mention a lot of work too. But before you plan the party for the big day, consider following things:
Do you want a BIG party inviting more than a 100 people or do you want to keep it a close family affair with only 20-25 people?
How much is your budget for the party? The budget will surely go up if you plan a big party?
To help you answer these questions always put your child first before you plan anything. In last one year you must have realized how comfortable your baby is with people around? Will the baby be comfortable if there will be more than 100 people, most of them unknown faces? If your answer is NO then a BIG party is not the right choice for you as you may end up having to deal with a crying baby and it will not be a happy experience for you and your baby.
Also budget is important. If you do not want to spend a big moolah, then keep it simple with a few close family members.
Based on the number of people you would like to invite you may then decide the venue for the party. If it's a small gathering 10-15 people then you may plan at home or at some nearby restaurant. But if it's going to be a BIG party then you may need to book a party hall.
Whichever way you do it having the party decoration as per your baby's liking will help your baby feel more comfortable and find it a fun event. Best tip is to decorate the party hall or your home with some of the things your baby likes. If baby has some favorite book character like Doremon/Dora/Mickey Mouse, you may put some stickers or posters which will excite the baby. Also balloons and lights are generally liked by babies.
Small party or big, its always better to plan ahead to avoid any last minute glitches. Here is a quick checklist for you when you plan your baby's first birthday.
#1 The Guest List
Who all would you like to call upon? Come up with an almost correct number.
#2 Invitation Cards
Decide whether you would like to send an invitation card or just call people to come over. Invitation cards look stylish and proper. Nobody needs to call you to ask the venue and timings once you send the invites. Since it's a birthday you can always simply courier the invites and call up to inform, and give to people living nearby by hand to avoid the hassle of excessive travelling. If doing at home or a nearby restaurant you don't need invites. Simply ask your near ones to come over.
#3 Birthday Party Theme
Decide the theme. In case your baby loves a particular cartoon character you can have all decoration based on that character in the form of posters, cut outs and even the cake can be that character. Or you may keep it without any theme and simply decorate with balloons. How about this Dora Cartoon Character at the gate? 🙂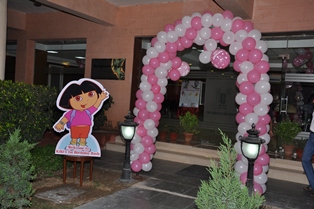 #4 Menu
Decide the menu. Since your baby is just one he/she would not be having any friends really. But check your guest list. From each family there could be some babies/kids coming and they should feel special on a birthday party. So ensure there are 3-4 items which kids generally like which may be French fries/pasta/noodles/cupcakes/pizza/burgers etc. Even babies can nibble on the french fries. Rest of the menu may be as per your liking.
#5 Party Games
Decide party games to keep the kids as well as elder people entertained. You may call a roaming magician – they go to each guest and do some magic tricks to keep them occupied. Since your kid is just a baby and would not be able to participate in any games – keeping party games in a 1 year olds party does not make much sense. But still you may keep a game which involves both kids and adults. It could be a simple game of giving a set of questions to all asking few fun stuff about your baby e.g When did baby's first teeth appear? When did baby start walking? And at the end of party you may announce a winner. You may call upon a tattoo artist, have a bouncy for kids.
#6 Photo Album
It's very important to capture pictures of this special day. As a host you will be busy so ask a family member to help you taking pictures or you may call upon a professional photographer depending on your budget.
#7 Baby Dress
Dress your baby comfortably. Avoid shiny and typical party wear clothes which may irritate the baby. A smiling casually dressed baby is better than a crying decorated baby.
#8 Music
Keep the music as per the mood of birthday party- some of your baby's favorite rhymes is a good choice.
#9 Baby Area
Always consider keeping a baby area if the party guest list has few babies. Moms of babies need diaper changing areas or sometimes feeding areas. If doing at home keep one room/bathroom for this.
#10 Party Duration
Its always better to keep the party small not more than a couple of hours so that your baby and other babies does not get over tired.
#11 Timing Of The Party
Choose the timing as per your baby's nap and sleep schedule. Choosing a time after your baby's last nap and before baby bedtime is most ideal.
#12 Day Of The Party
Since most of people coming will be working. Its always better to keep the party on weekend. Even if your kids birthday does not fall on a weekend try to shift the party date a day or two here and there to make it comfortable for the guests to come. If you are very particular to celebrate the same day which is a work day, then keep it in evening and of short duration.
#13 Flow Of The Party
It's very important to have a flow of the party. You may think like – when guests arrive what do they do? Have snacks. Get entertained by some performer (magician/puppet artist). Let the gathering swell. Then cut the cake. Then open dinner.
#14 Return Gifts
Think of some creative gifts. Buy return gifts as per age of the kids. A 16 year old may not need a sippy cup, but would like some creative puzzle game. While making guest list clearly mark the age of the kids who will be coming and then buy gifts age wise – that way it will be more useful. For small babies a sippy cup etc may be good and for older ones some fun puzzles or games. Keeping a bunch of small knick-knacks always excite young children.
#15 Blessing Board
First birthday of your baby is special and one your baby will not remember. So keep as many memories as possible. Along with Photo Album , keeping  a blessing board which guest can sign with their best wishes is something your baby can cherish once he/she grows up.
And the most important thing to remember, don't get stressed out. Be a smiling host ans pay attention to all your guests. Ensure that all get a piece of cake, eat their dinner and all kids get their return gifts.
I hope that you fill find above information useful and handy while planning your baby's first birthday. Do not forget to share your experience with us, we would love to hear back…!! 🙂