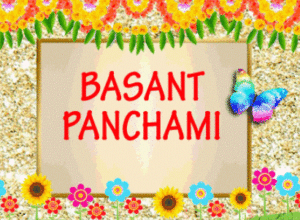 Things Required
Paper and pen for all participants
How To Play
Give paper and pen to all the participants.
They have to write as many words as they can related to Basant Panchami puja and / OR yellow things in following 5 categories (Examples provided) –

Vegetables- Pumpkin, Lemon, Yellow capsicum, Sweet Corn etc.
Fruits- Banana, Papaya,Mangoes, Pineapple, yellow figs etc.
Sweets- Jalebi, Ladoo, Keser Peda, Moong Dal Halwa, Boondi etc.
Flowers – Marigold, Yellow Tulip, Yellow Dahlia, Yellow Orchids, Yellow Rose,Daffodil,Sunflower etc.
Basant Panchami puja – Saraswati puja, Spring Festival, Kumkum, Mango leaves, Kalash, Milk, White cloth, Agarbatti, Flowers etc.

This game is to be played like Tambola and prizes can be as below –

Early 5 i.e. player who has written at least 5 names in any category
All 5 i.e player who has written 5 names – 1 in each category
Rows i.e. player who has written 3 names in 1 category – flowers, fruits, vegetables, sweets, puja
House i.e. player who has written 4 names in each category.
Rows and houses can be kept as per your choice.
Game ends when all the prizes are successfully claimed.