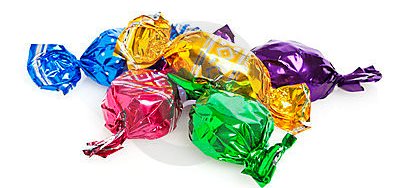 1.Unwrap The Candies
One minute party game in which players have to unwrap maximum candies using gloved hands. Check more about Unwrap The Candies
2.Candy Race
This is time bound game where the children have to collect the maximum candies from one end to another by picking up the candies with their mouth. Check more about  Candy Race
3.Aim The Candy Bag
A fun birthday party game for kids in which each kid gets blind folded and get 3 chances to hit the candy bag with a stick. Check more about  Aim The Candy Bag
4.Guess The Candy Flavor
A fun party game where the kids have to eat the candy and guess the flavor.  Check more about Guess The Candy Flavor
5. Candy Dance
Allot one number to each kid. Put no. slips in a bowl and start the music and tell the kids to dance. As the music stops, the caller will call one no. the kid with that no. will get one candy. The caller will put the slip back in the bowl. Before taking out the next slip he will shake the bowl. The kid with maixmum candies wins.
6.Count The Candies
A fun party game in which each participant has to guess the number of heart candies in a jar.  Check more about Count The Candies
7.Grab The Candies
A one minute party game for kids in which they have to grab maximum hanging candies in one minute.  Check more about Grab The Candies
8.Eat The Candies
A one minute party game in which players have to find the candies from the bowl full of flour, unwrap them and eat them. Check more about  Eat The Candies
9. Catch The Candies
Take a bowl full of different candies for eg. fruit candies, mango bite, coffee bite, melody, kismi bar etc.  Insert some candies in the balloon before blowing.  The game is the host will fly the balloon upward and blast it with a pin. All the kids have to catch the candies as much as they can. The one who catches the maximum wins.
10. Candy Crossword
Create a crossword with different  candy names  hidden for eg. mango bite, panpasand, poppins, gems, alpenliebe etc..