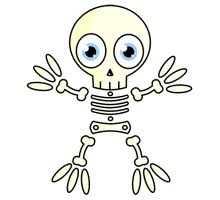 It's a very interesting Halloween party game for kids as well as for adults. Preparations are very easy for this game but it will be a lot of fun playing this game with your family and friends. Check it out 🙂
Things Required
Printed papers or thermocol
Glue
2 large bowls
2 Poster Boards and double sided tape
How To Play
Before the party create each part of skeleton using printing papers or thermocol.
Divide your guests in two teams and give each, a bowl containing all the parts of skeleton, glue or double sided tape.
Ask them to make the skeleton by these parts on board or they can make it on wall also by using double sided tape.
You can fix the timing of game also.
Winner
The team who will finish the task first would be declared the winner of game.