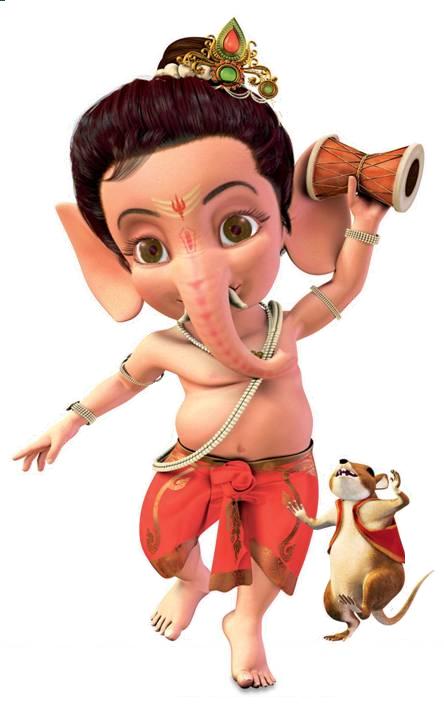 Ganesh Chaturthi is celebrated as the birthday of Lord Ganesha with great enthusiasm and this festival lasts for almost 10 days. These ten days are celebrated with cultural activities like singing competitions. rangoli/mehandi competitions, Bal Ganesha painting competions, devotional dance performances either solo or in groups etc.We can also celebrate this festival by playing below fun games :
1. Count The Modak's
Take a picture of Lord Ganesh, put carbon paper and one blank sheet on top of it.  Staple all the three papers together from all the four sides.  The game is the player has to draw modak's on plain paper as many as they can in one minute. As the time is over, remove the paper and carbon paper and count the modak's drawn on the picture and count them. Modak drawn outside the picture will not be counted.  The person who has drawn the maximum no. of Modak's  on Ganpati picture wins.
2. Ganpati Bappa Morya
Player have to write Ganpati Bappa Morya either in english or hindi with their left hand in one minute. The one who write the maximum no. of  times wins.
3. Decorate Your Ganpati
Give  a cardboard 15"x15" with a sketch of Lord Ganpati drawn on it alongwith some decorative material like different colored thermocol balls, water colors, powdered colors, glue, spray bottles, ribbons, laces, some fresh flowers etc. The game is that everybody has to decorate their ganpati with the above items,
4. Ganpati Quiz
Make a set of 15-20 questions related to Ganesh Chaturati like Ganesh Chaturthi is celebrated for how many days?  Lord Ganesha is the son of which divine Couple?  Who started Sarvajanik Ganeshotsav?  In which year Ganeshotsav started?  During  which month Ganeshotsav is celebrated every year?  Why is Ganesh Caturthi celebrated ? Which is the vehicle used by Vinayaka ? etc.
5.Making And Eating Modak Competition
As Lord Ganesha is very found of Modak's so organize for  Modak making competition with a time limit and afterwards Modak eating competition i.e. how many a person can eat Modak's in one mintue.
6.Children's Fancy Dress Competition
Kids are welcome to show their talent by dressing them up as little Ganesha, Shiva or Parvati, etc.  They can recite slokas,sing devotional songs, narrate few sentences about the character they are portraying or about Ganesha.
7
. Different Names Of Lord Ganesh
Lord Ganesh has 108 names like Devadeva, Ekadanta, Ganapati, Kapila, Lambodara, Muktidaya, Omkara, Rudrapriya, Siddhivinayaka, Swaroop, Vigneshwara etc. The players has to write as many as they can in one minute.
8. Lord Ganesha Songs
There are many songs in Hindi films which have been dedicated to Lord Ganesh.  Make a list of 10-12 songs  for ex. Deva Shree Ganesha (Agneepath) Morya Re Morya Re ( Don) Shree Ganeshay Dheemahi (Viruddh) Sindoor lal chadayo (Vasstav) Ganapati Bappa Agle Baras Tu (Aasoo Bane Angaarey) Deva ho deva Ganpati deva (Humse Badkar Kaun)etc.  Give this list to players where they have to write the names of movies in one minute.
9. Shree Ganeshay Namah
Write Shree Ganeshay Namah  on paper neatly. Time limit is one minute. The person who writes maximum no. of times wins.
10. Find and Count  Ganpati  
Draw on a sheet of  paper  picture of small ganpatis surrounded by modaks, flowers, kalash etc..Get the same photocopied as per the no. of players.  Give one paper and pen to everyone.  The game is  players have to find and count the no. of Ganpati drawn on that paper in one minute.
11.Color Your Ganpati
A group party game  where the players have to color the sketch of Ganpati as per the nos. they have rolled on their dice. Check more about Color Your Ganpati ..