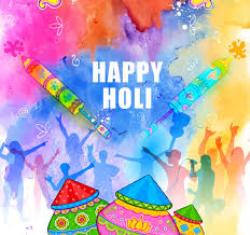 1. Lucky Balls
Take baskets of four different colors (red, blue, green and yellow) or you can decorate the baskets with different color balloons just to identify the colors and some tennis balls. Make four slips and write the colors name on it and put them in a bowl. Mark a starting and finishing line. Keep the baskets on the finishing line. The player will throw the balls in all the baskets as many as he can.  Time limit is one minute. As the time is over, the player will pick one slip from the bowl. If it comes red then count the balls of red basket and balls in other baskets will not be counted.  The player with maximum balls wins.
2.Gujiya Making Competition
Divide the players into groups of five.  Give them one chart paper, glue, scissor, sketch pen, a bundle of cotton and some candies.  The players have to make paper  gujiyas stuffed with cotton and candy. They  have to write 'Happy Holi" on the gujiyas. The group with maximum gujiyas wins.
3.Win By Choosing Colors
Give six cards having names of different colors to all the players. They have to choose one card by placing their finger on one particular color. The caller will call out one of the colors and the players who have kept their finger on that particular color are considered to be OUT and continue the game by calling another color. The caller can call the same color again.  The winners can be more than one.
4.Name Different Color Things
Give paper and pen to all the players. Ask them to write name of any three  fruits, vegetables, cold drinks, soap, flowers, sweets, ice cream, sauces, spices etc. of different colors  eg.fruits red–apple, yellow-banana, green-kiwi, vegetables red-beetroot,  green-palak, purple-brinjal  cold drinks orange-fanta, black-coke,  white-limca etc.  The player who writes the maximum wins. Time limit is one minute.
5.Idioms With Colors
Give paper and pen to all the players.  Ask them to write the idioms that has color in it for eg. kala akshar bhais barabar, dhoop mei bal safed karna, gueese mei lal pila hona,safed jhoot bolna, dal mei kuch kala, sunera mooka milna,  neeli chatri wala, Boodhi ghodi laal lagaam, Sharma ke maare laal hona, Buri nazar wale tera munh kaala etc. Time limit is one minute.

6.Holi Crossword
Create a crossword with words hidden related to holi for eg. gulal, hara, pichkari, chandan, gujiya, bhang, kanji, phagun, holika dahan,Hiranya Kasipu, Prahlada, water gun,Brij ki holi, tesu ke phool, thandai, balloon etc.
 7.

Colorful Questions
A paper quiz  in which each answer has a name of color in it. Check more about Colorful Questions
8
.Holi Ki Ginti
A one minute holi pary game to count maximum holi related things in one minute.Check more about Holi Ki Ginti
9.Rangeelo Mharo Dholna
A unique tambola idea for holi kitty party where each player becomes someone else dholna and at the end all players get colorful. Check more about Rangeelo Mharo Dholna
10. Longest String With Different Colors
One minute party game to make longest string of different color ribbons.Check more about  Longest String with Different Colors
11.Color Or Word
One minute party game that will confuse the participant whether to say the word or the color in which the word is written, Check more about  Color OR Word