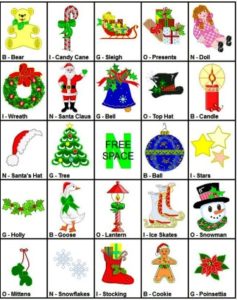 Things Required
Jumble up the items shown in the picture (exchange their positions) to make multiple tickets.
Make sure no two tickets have these items in the same order or in same combination.
Print these tickets and distribute to the participants.
How To Play
Make chits for each of the Christmas items printed on the tickets.
Draw chits one by one and announce the item
Participants will strike off the announced items from their tickets
Prizes can be kept for each line, early 5, corners and full house etc.
Game ends when all the prizes are successfully claimed.