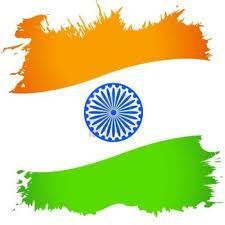 Independence Day is celebrated every year on 15th August with great pomp and show. Flag hoisting ceremonies and many cultural programs are organized which children love to watch them and participate in them. Colorful kites fill the sky in the evening, to symbolize freedom, some of kites are in the color of the National Flag. You will also find balloons of saffron, white and green colors in the sky. Following are some of the fun activities which we can enjoy with children :

Tricolor Friendship Band or Bracelet
Take orange, white, green beads, needle and thread. Tie a knot at one end of thread  and with the help of  needle thread the beads in tricolor.
Take orange, white and green color ribbons (1/2 inch in width) or wool strands 10 inches long. Tie a knot at one end and weave into a plait to form a long band. Knot the other end to keep firmly in place.
Tricolor Bookmarks
Take 1 inch wide and 4 inch long white chart paper. Color the bookmark using saffron, blue and green acrylic colors. Draw the wheel on the white portion with blue color.  Make a hole at the top and put a ribbon string in it.
Tricolor Flag With Pulses
Take one cup each Masoor Dal for saffron color, rice for white color, whole green  moong dal for green color and some Red Kidney Beans for flag pole. A cardboard, glue for sticking the pulses, a paint brush and blue paint for the wheel.
Tricolor Flag With Rangoli Colors
Make as many as tricolor flags with rangoli dry powder colors
Tricolor Costers With  Ice Cream Sticks
Paint the ice cream sticks with safforn,white and green color with acrylic color. Paste them with glue  and two way sticking tape to make costers.  Also can make tricolor flags with the help of small and big ice cream sticks.
Tricolor Crown
Cut the chart paper in the shape of a crown or cap. Color then with pastel colors in tri color
Tricolor flowers or string
Make flowers or a long string using tricolor craft papers for decoration
We can also keep drawing, kite flying, blowing of balloons competitions etc. You can look for more fun games for kids that can be organized on Independence Day here.