"Awesome" is the word that came out of my mouth when I opened the package received from All Good Scents. The gift box was impressive and that made me even more curious about the product inside. Well it was "Evoke – Women's Perfume By All Good Scents".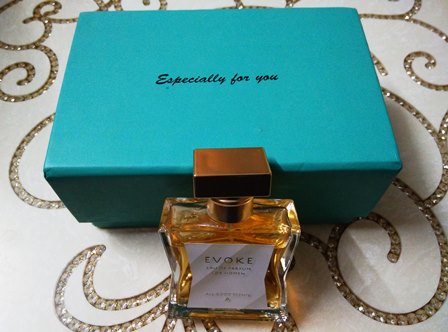 All Good Scents – Creating quality & international standard perfumes at pocket friendly prices, is the first contemporary perfume house that has brought the most celebrated fragrances from around the world. At Ladies Kitty we keep exploring new gifting ideas and we have been lucky to get an opportunity to review one of their perfumes for the benefit of our readers.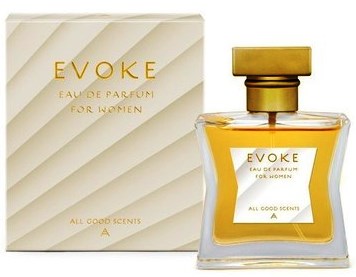 All Good Scents Evoke EDP comes in a pretty glass bottle that has sleek cuts with a cinched waist and a golden T shape cap. It does look elegant and classy. Also it is a small bottle that makes it handy and easy to take it along wherever you go…!!
What's inside the bottle is a rich fragrance and I totally loved it. As mentioned on their site Evoke lets you envelop yourself with a sensual fragrance and spice up your evening. It leave a lingering, passionate scent whenever you move. It's intoxicating yet subtle, powerful yet delicate. We can't agree more here 🙂
Having used the likes of Elizabeth Arden in past, I believe Evoke comes at a nominal price of Rs. 1200/- for 50ml.
I would love to try more perfumes by All Good Scents and luckily they have SCENTBOX, where I can pick any 3 unique fragrances that I would like to try. For just Rs 55 per tester, each edition comes with 3 fragrance samples test as well as promotional vouchers so one can make some big savings on all the scents featured in the SCENTBOX.
My parent's wedding anniversary is due next month, I might as well gift my mom & dad one of these perfumes by creating a Duo GiftBox.
This is our experience with All Good Scents, do let us know if you try out any of their perfume – as always we would love to hear back from you…!! 🙂
*Disclaimer*: We received a complimentary Gift Box  from All Good Scents to get a first hand experience before speaking to our readers about it.