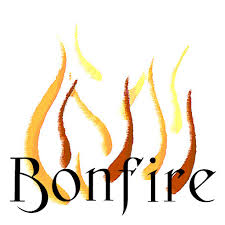 Bonfire parties are great ways to get family and friends together especially on full moon night.   To have bonfire parties the venue can be either the backyard of your house or most preferable location is beach side. These types of parties have lot of fun for people of all ages but they can also be dangerous so keep your guest's safety on top priority. Also after the party is over, always make sure that you extinguish the fire completely. A bonfire party can be only be successful when you have lots of lip snacking dishes to eat, lots of games to play, great music to play.
Decoration
Decorate the party area with strings of outdoor lights, garden torches or lanterns, twinkling fairy lights, hang around some balloons, buntings, on the tree branches.
Keep a basket full of glow necklaces and bracelets at the entrance and give one to everyone to wear as they will glow once the sun goes down.
Dig a wide shallow pit and arrange the bundles of logs in the centre of the pit.
Put some herbs or chemicals to make the fire smell good or show different colors of fire.
Dress Code
Keep a casual dress code, may be you can fix a particular shade to be worn.
Games
Some of the games which can be played for eg. Football, Frisbee, tug of war, playing cards, board games dumb charades, tongue twisters etc.
Keep singing, dancing completion for which give away some prizes
If the party is on the beach side keep some competition for children like building sand castles, collecting maximum seashells etc.
Water balloon toss games can be of great fun for ex. Pass The Leaking Balloon, Catch And Pass The Balloon
Keep food making competitions i.e who can barbecue the snacks the best.
Some of the following games can also be played : Insect Bite, Lion In The Cage, Broadcast The Message, Guess the Candy Flavor, Toss The Ice Cubes.
You can look for more group games here.
Food Ideas
A great way to make a bonfire night even more enjoyable is to have an outdoor barbecue.
Baked potatoes with butter and fresh herbs.
Precook some fresh vegetables at home and wrap them in buttered foil and reheat on a grate in the fire.
Roast some mouth watering hotdogs, humbergers and marshmallows using skewers.
You can also opt for grilled lobster, chicken and sausages to go with fine wine.
Irish coffee, hot chocolate, different types of juices, etc can be kept as drinks.