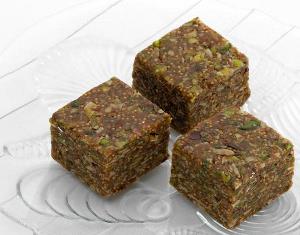 Ingredients
1 cup coconut powder
1 cup coriander powder or coriander seeds
1 tbsp cardamom powder
2 tsp chopped cashew nuts
1 tsp chironji or melon seeds
1 cup sugar
How To Make Dhaniya Barfi
Heat the pan and add 2 tsp ghee
Once the ghee is melted add coriander powder
Keep stiring for 2-3 mintues till it changes the color
If we are taking coriander seeds,then roast the seeds in ghee. Let it cool down and then grind the same into powder.
Now roast the grated coconut for a minute.
Now for syrup put sugar and ½ cup water in a pan. Continue boiling and make syrup of three wire consistency.
Once the sugar syrup is ready, add coconut, coriander powder, chopped cashew nuts and cardamom powder and stir well for few seconds.
Turn it out on to the greased tray.
Flatten with the back of the spoon or with the help of greased rolling pin.
Cut in pieces when mixture is still warm, if you allow to it cool then we can't make required shape pieces
Store in an airtight tin or box.