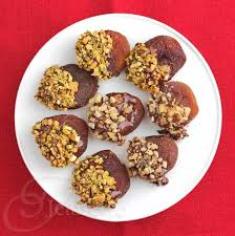 Ingredients
2tbs. Butter
1 cup Condensed milk
2 tbs. Coco power
1/2 cup crushed dry fruits (almonds,kaju,walnuts etc.)
2tbs. coconut powder optional
How To Make Dry Fruit Coated Home Made Chocolates
Take a pan add 1 1/2  tbs butter and melt it on slow flame.
Add one cup condensed milk and keep stiring till it become thick.
Add 2 tbs of coco powder and stir till it mixes well into the batter.
Cook it for 5 mins and put off the flame.
Take a greased tray and  pour the whole batter into that.Allow it to cool.
In the mean time roast the dry fruits of your choice and crush them.
Make small balls from that batter and coat them with crushed dry fruits or coconut powder.
Serve them and store them in a air tight container.