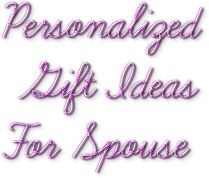 Gifting is an art…!! It's not easy to decide what to gift to someone, especially when it is for someone close to you. A gift is special for the person who receives it and also for the one who gives it, since it's a material form of your love, feelings and care; it has to be chosen very carefully and aesthetically.
Here are some suggestions when the Gift is for that special person in your life.
1. Gold Band
A gold band with your name etched on it OR may be her/his name etched on it. Since you are close you can decide which one he/she would prefer 🙂
2. Tattoo
This one is for a little crazy and madly in love souls. Get yourself tattooed with his/ her name/initials. Nothing is more flattering for a woman than to have her name etched on her lovers' body, same holds good for men too 🙂
3. Gold/Diamond Pendant
A gold/diamond pendant, with your or his/her name's first alphabet.
4. Collage of Pictures
A collage of his/her pictures, capturing his/her various moods/attires OR a collage of pictures of two of you together, a remembrance of all good times you shared together.
5. Sexy Piece Of Cloth
Could be Lingerie/Dress you would like them to wear and have fantasized about 😉
6. Soft Toy
A special Toy which says "I love you <with her/his name>" or any customized message of your choice.
7. Picture Cake
A special cake, with a picture of two of you together. You can put a collage of pictures also.
8. Fragrances
A bath kit – complete with soap/Deodorant/moisturizer, which you would like your guy/girl to wear.  A smell you find irresistible.
9. A Pair Of Watches
Buy a pair and get the Date you met/your anniversary date etched on them.
10. Sports/Art Kit
If they like some sport OR are into painting or some other art, buy a Kit/equipment they so badly want. You may get their names etched on the equipment OR add message as "For my Love, from XYZ" to make it special.
These were some personalized gift ideas for your spouse for those special moments which not necessarily need to be a birthday or anniversary as any day is special with that special someone. Won't you agree? 😉