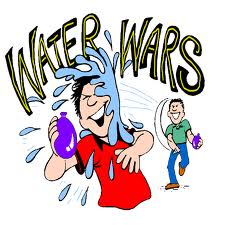 Number Of People Required To Play The Game
No restriction, as many as you want.
Things Required
 Water filled Balloons
T Shirts of Red and Yellow Color as per the no of players.
How to Play
Divide the players into two groups and name them as team A and team B.
Let all the players of the team A wear t-shirt of Red Color and Team B players have to wear t-shirt of Yellow Color.
Give water filled balloons to all the players.
Everybody is given an opportunity to disperse and hide themselves.
As the time starts, players of team A will search for players of team B and hit their shirt with a water balloon.
When a player gets hit with a water balloon from the opposite team, he is OUT.
Time limit is 2 minutes.
Winner
The Player/players who are not hit  with a balloon wins.